Apply Here
Applications are currently closed and will reopen during the Spring 2023 semester.
---
Student employees are an integral part of our operations. With flexible hours it is easy for students to arrange work schedules around classes and extracurricular activities.
Working with CP&S puts our student employees at the center of campus life, offering constant interaction with students, faculty & staff, and the general public. It's a fun and exciting work environment! New student employees are given a primary job assignment but are also expected to function as energetic, committed team members, working together to provide excellent services and activities for the WFU community.
Our primary hiring takes place annually in March and April. If you'd like to be placed on our waitlist, please email myersl@nullwfu.edu with the subject line "Student Employment".
---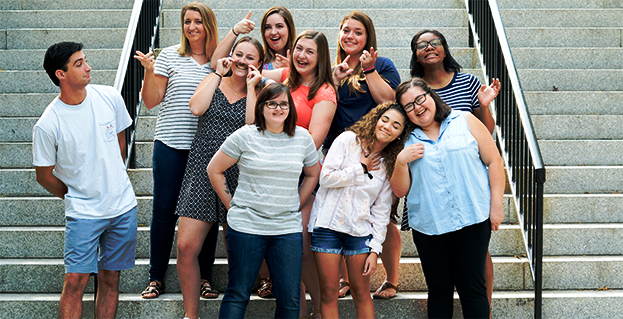 "My favorite part about being a Benson employee is working with my peers. We have a really amazing team who work hard and make the office fun to work in. "
---
Questions about our open positions? Read on to find out more!
---
Copy Center
The Benson Copy Center completes printing orders satisfying departmental and student needs alike. The Copy Center produces materials related to marketing, presentations, projects, course readers, and more.
Information Desk
Info Desk staff direct students, faculty, staff & visitors around the building & campus and give them any information they need. Staff also are responsible for opening the building in the morning and keys for room reservations in the building.
MRKT
MRKT is a student graphic design team that works closely with departments and student organizations across campus in the creation of flyers, posters, logos, and any other graphic design needs. Click here to learn more about MRKT.
Office Assistants – Dean of Students
Dean of Students Office Assistants help facilitate comfort and cohesion in the office. This includes directing students to their appointments, managing confidential documents for student conduct hearings, and helping with the Student Organization Finance Office.
Office Assistants – Student Engagement
Office of Student Engagement Office Assistants help oversee several areas of campus life, including Student Union, Student Government, and Fraternity and Sorority Life. The office plays a huge role in helping students find their place on campus and making them feel welcome in the community.
Set-Up Crew
The Set-Up Crew provides support for every event that goes on in Benson. Staff set up and take down every event, and make sure those events go smoothly. From audio-visual support to equipment management, they are there to help!
Switchboard
Switchboard staff is responsible for fielding a myriad of different call types in a respectful, helpful manner and transferring calls to the correct administrative/academic department. As the Switchboard team answers the main University telephone number, they serve as the "voice of Wake Forest" and are always happy to assist any caller with any questions.
Fireside on Manchester
Our newest space, Fireside on Manchester, provides a unique outdoor gathering opportunity for students, faculty, and staff.  Student employees maintain the outdoor fire pits and monitor for safety.  They also work on our other outdoor initiative, the Biederman Project.  The Biederman Project includes our game carts, outdoor piano, and other equipment designed to encourage stress relief!
---
Student Managers
Benson Student Manager positions are open to students who have worked at least a year in one or more of the Benson job stations. Student managers assume primary responsibility for training, scheduling, and employee accountability in their area, setting goals and performance expectations for the team they supervise. Working together, they monitor the building after hours and on weekends.
Being a student manager is awesome because I really get to see how my job on campus has an impact on students. Benson is at the heart of our university and so I love being behind the scenes of what makes our campus work!

Jamie Van Horne, Setup Crew
---
Contact Us
Campus Programs & Services Administrative Office:
Phone: (336) 758-4869
Fax: (333) 758-4883
Email: bensonoa@nullwfu.edu
Office Hours: Monday-Friday 8:30 AM to 5:00 PM
Location: Benson University Center Room 139
(Office of the Dean of Students)