Copy Center Pricing and Services
---
Benson Copy Center is a fully equipped production facility offering a wide variety of professional services to the entire campus community. We produce materials related to marketing, presentations, projects, course readers and more, and provide same-day service on most jobs.
We offer free delivery and will match any written quote.
---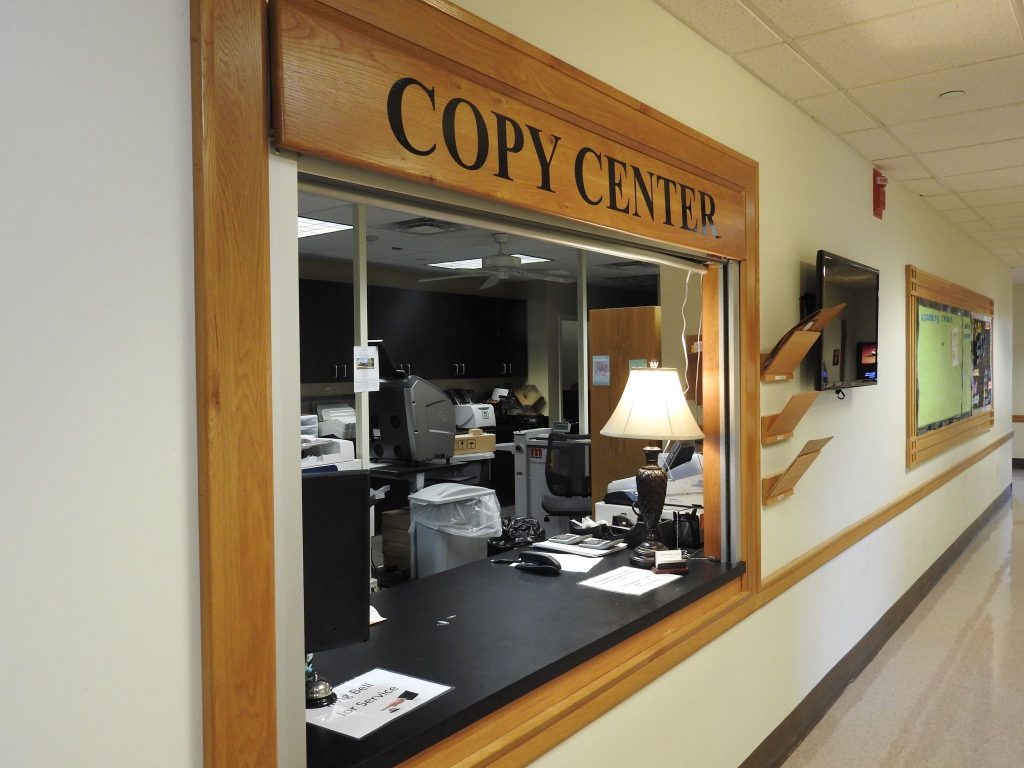 ---
To submit a job, please email us at copies@wfu.edu
Be sure to include your desired paper type, size, and quantity, as well as your payment method (i.e. six-digit budget account code starting with 129XXX, 122XXX, 500XXX, or 550XXX and corresponding activity code U0XXXX when relevant). And don't forget to attach a file for us to print! Feel free to email us at copies@wfu.edu with questions or for a quote.
---
Price List
Listed below is the pricing for our most common requests. If you would like to submit a custom project or do not see what you needed listed here, please contact us for a quote at copies@wfu.edu.
The Copy Center accepts cash, checks, Visa/Mastercard, and Deacon Dollars (click here to check your balance or add additional Deacon Dollars online through Deacon Dining). Prices may vary depending on your project.
Prices are listed per copy
8.5×11 Standard Paper
Single-Sided: $0.09
Double-Sided: $0.16
8.5×11 Color Paper
Single-Sided: $0.13
Double-Sided: $0.20
8.5×11 Cardstock
Single-Sided: $0.25
Double-Sided: $0.36
8.5×11 Color Cardstock
Single-Sided: $0.35
Double-Sided: $0.43
11×17/12×18 Tabloid
Single-Sided: $0.18
Double-Sided: $0.26
11×17/12×18 Cardstock Tabloid
Single-Sided: $0.50
Double-Sided: $0.72
Prices are listed per copy
8.5×11 Standard Paper
Single-Sided: $0.59
Double-Sided: $1.10
8.5×11 High Gloss Paper
Single-Sided: $1.00
Double-Sided: $1.50
8.5×11 Cardstock
Single-Sided: $0.84
Double-Sided: $1.35
8.5×11 High Gloss Cardstock
Single-Sided: $1.05
Double-Sided: $1.55
11×17/12×18 Tabloid
Single-Sided: $1.05
Double-Sided: $1.55
11×17/12×18 Cardstock Tabloid
Single-Sided: $1.10
Double-Sided: $1.60
Prices are listed per square foot
Full Color: $5.00
Black and White: $3.00
Available sizes:
16×20
18×24
20×30
24×36
48×36
Available finishes:
Prices are listed per copy unless otherwise noted
Resumes
25% Cotton Paper: $0.24
100% Cotton Paper: $0.42
Carbonless Copies
2-page set: $0.25
3-page set: $0.35
Hang Tags
Single-Sided: $0.55
Double-Sided: $0.70
8.5×11 Permanent Paper
10 mil white SS: $1.74
10 mil white DS: $2.75
11×17/12×18 Tabloid Permanent Paper
10 mil white SS: $2.74
10 mil white DS: $3.50
Table Tents
3-to-a-sheet color: $1.10/sheet
3-to-a-sheet B&W: $0.50/sheet
Folding: $0.25/table tent
Prices are listed per copy unless otherwise noted
Coil Binding
6mm-8mm: $2.50
10mm-14mm: $3.00
16mm-22mm: $3.50
Over 22mm: $5.00
Tape Binding
Narrow: $2.25
Medium: $2.75
Wide: $3.25
Prices are listed per copy unless otherwise noted
Covers
Includes Front and Back: $3.00
Collating
By Machine: No Charge
By Hand: $0.15
Cutting
By Machine (per cut, per 500 pages): $1.00
By Hand (per cut, per page): $0.50
Folding
By Machine: $0.10
By Hand: $0.25
Scoring
Set Up Charge: $5.00
Per Score: $0.10
Inserting
Stapling
By Machine: $0.10
By Hand: $0.15
Laminating
8.5×11 Paper: $2.00
11×17 Paper: $2.50
Larger Size: $3.50 per square foot
Mounting
---
---
Copy Center Information
Phone: (336) 758-5251
Fax: (336) 758-6074
Email: copies@nullwfu.edu
Office Hours: Monday-Thursday 8:30 AM to 6:00 PM
Friday 8:30 AM to 5:00 PM
Location: Benson University Center Room 334
(near the Information Desk)
---
Contact Us
Campus Programs & Services Administrative Office:
Phone: (336) 758-4869
Fax: (333) 758-4883
Email: bensonoa@wfu.edu
Office Hours: Monday-Friday 8:30 AM to 5:00 PM
Location: Benson University Center Room 139
(Office of the Dean of Students)