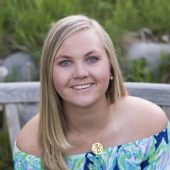 Palm Beach, FL
Junior | Communication Major
Favorite part about working on MRKT: I like getting to play around with my favorite design programs, like Photoshop.
What previous experience do you have with graphic design?: I taught myself Photoshop in seventh grade and took several graphic design classes in high school. I've done a lot of design in my own time for fun.
Fun fact: I've lived in 15 different houses and 3 different states.