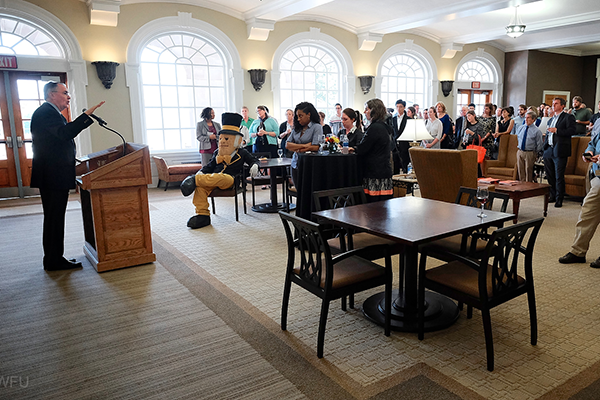 Reservation Lead Time:
3 business days, by approval only
Internal Groups:
Request through
DeaconSpace
External Groups:
Not available
The Reynolda Green Room is a formal parlor space located in Reynolda Hall. Use of this space is by special permission only. Appropriate use of the Greenroom includes receptions, press conferences, formal announcements, holiday parties and informal University events.
This space may be requested by Reynolda Campus departments at no cost. Request the space by 4:00pm, 3 business days in advance, using the "All Campus Multipurpose/Auditorium" form found in DeaconSpace.
Please review reservation policies prior to requesting.
Need more information?
Contact us:
Campus Programs & Services Administrative Office:
P: 336.758.4869
F: 333.758.4883
Office Hours: Monday-Friday 8:30 AM to 5:00 PM
Located Benson University Center Room 139
(Office of the Dean of Students)